This training aims at equipping equality bodies to persuade their target audiences of the importance of equality in general, and to address hot and often contested topics through speeches, articles, and other pieces of communication.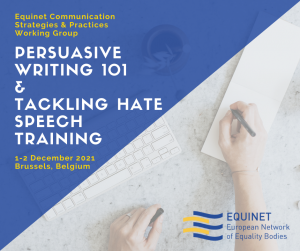 Date: 1 – 2 December 2021
Time: 9:30-17:30 CET
Brussels, Belgium
Applications open until 7 November
Aims and Objectives
As defenders of the right to non-discrimination, equality bodies strive to raise awareness of rights and promote the core EU value of equality. This means that in their communication efforts, equality bodies must put forward convincing arguments as to why equality and non-discrimination must be promoted and respected in society. At time, they may face online hate speech, be it as the direct target of trolls, or as a potential mediator for cases of discriminations brought up by citizens.  While techniques of hope-based communication are powerful tools in spreading the message of equality, when it comes to facing and fighting to neutralize hate speech, a different set of tools might be required. Analyzing and deconstructing opponents arguments to re-frame issues and build a convincing case can help equality bodies make effective changes in society.
This training will focus on promoting equality by sharpening the persuasive skills of communication experts from equality bodies to counter hate speech on- as well as offline.  The training will approach persuasive writing techniques, in particular writing and effectively communicating messages.
When faced with trolling or hate speech, especially on social media, equality bodies often use positive counter narratives. This training should assist in starting to use different persuasive writing techniques in a more comprehensive and strategic way to deal with online hate speech and trolls.
What can I expect to learn in this training?
How to safeguard your reputation and disarm trolls with humour
How to deconstruct arguments and reframe fake news
How to persuade all brain parts with rhetoric and manage conflicts with an interest-based approach
How will we achieve that?
Persuasive writing 101: Understand rhetoric models and elements of persuasive writing

Put it into practice: Explore examples of successful persuasive writing and practice techniques in writing messages for different audiences, including marginalized groups

Tackling online hate speech: Learn how to recognize and respond to different debate techniques used by "trolls"

Put it into practice: Based on experiences of equality bodies receiving hate speech (particularly on social media), discuss and work on model answers for reoccurring problems
What will I take away?
A checklist of practical tips for equality bodies, based on the experience of equality bodies
A collection examples of persuasive writing, custom made for situations faced by equality bodies
Meet the trainers
Equinet is partnering with The Dandelion Group to deliver this dynamic, interactive training. The Dandelion Group is a social enterprise run by communication specialists building an inclusive Europe by boosting collaboration, campaigns and communication.
Logistical Considerations
The training will take place on 1-2 December, and will be followed by a meeting of the Equinet Communication Strategies and Practices Working Group on 3 December. As the world slowly starts to go back to some type of normality, we are aiming at holding these two events onsite in Brussels, Belgium. While we have high hopes to achieve this aim, we understand that not everyone might be ready and able to resume onsite event participation. The final program might be adapted to fit the needs of our audience, should there be a demand for a hybrid format.
Resources